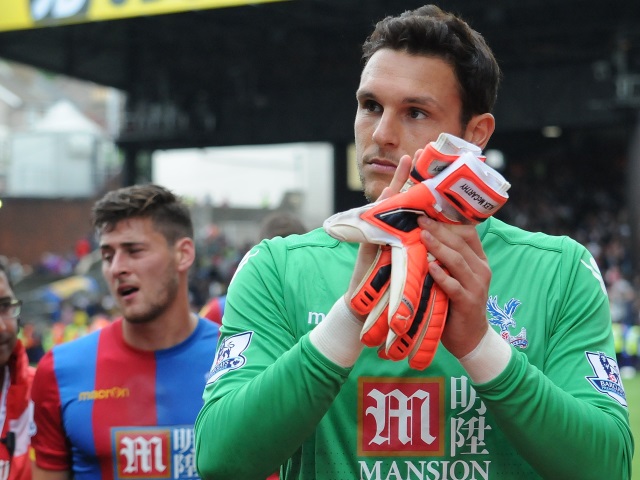 So Jules injured, Alex McCarthy dropped after a couple of mistakes and Wayne Hennessy finally gets his chance. Two clean sheets, and a Welsh international success later, and suddenly people were suggesting we had found our new number 1.
Well, let's take a closer look.
Last season, despite it being our second successful season in the Premier League with one of the tightest defences and a goal keeping legend who won us countless points, there were many calling for Jules to be replaced by Hennessy. Then, in the close season, we went and bought a third keeper and the debate raged even more fiercely. Was Jules' time up? Was it finally Hennessy's time? Who was McCarthy and where did he fit in all this? So, as the new season approached, the battle lines seemed to be drawn for a battle royale.
But then Jules got injured and the argument rather sorted itself out. Jules had to be replaced, and Pards went with newcomer McCarthy, who did well for a few games but then in two consecutive games spilled a shot then let a soft goal in, crucially both leading to 1-0 defeats, and a change was inevitable. Fine margins.
For many that was that, this was finally Hennessy's time. Two clean sheets and a weird dance with Joe Ledley later it was as if the debate was over. And it seemed as if people now accepted This was the new order. So is that it?
Well let's look at the facts.
Firstly, the two games Hennessy got clean sheets against were Watford and West Brom. The former a sterling Dann and Hangeland performance that meant he hardly had a thing to do in either (and some did notice how, in injury time when we needed cool heads, he spilled a routine through ball causing panic and got booked for time wasting adding an extra minute) and the latter the most one sided game seen at Palace in years and something goal keeping coach Woody could have done even today.
So despite the talk not much to back it up, and there was even some comment of a leaden footed keeper in Wales' two nil defeat away the following weekend, but that was forgotten in the heat of Welsh fervour at qualification.
So onwards to West Ham at home. I watched him in the warm up as kick after kick went straight into touch - something that happened again in the match a few times - and worried how he may have been into the rugby World Cup just a bit too much. And then we conceded three so the whole 'he hasn't conceded' line went there and then. Next Leicester. Yes a bad mistake let Vardy in, but many felt Wayne could've done more to make it difficult for him. Many recalled Hazard through in similar circumstances late on v Chelsea at home (and many times after that) when Jules would stop a one on one, and wondered whether the walk wasn't quite matching some people's talk.
But these are all still fine margins and matters of opinion. Although Man City in the cup has revealed the doubts are widespread - to concede five v a top side is always possible but on at least two (and definitely the last one driven straight at him) people feel he isn't either the shot stopper we know Jules to be, nor is he the commanding presence we sometimes feel Jules should be.
McCarthy looked good in many ways but just a few too many wobbles, he looks a perfect reserve to grow and learn.
Wayne doesn't look confident, commanding, or agile. And is shipping goals: nine in his last three.
And then there's Jules. I have to declare my bias at this point; Jules is someone who the mere thought of him moves me to tears of joy, a true legend who loves the club as much as we love him, he has stayed with us, grown with us, and risen to the premiership challenge and excelled. So, I would need a very clear and good reason to drop him just yet.
But, my bias aside, again look at the facts. Despite Hennessy arrival, and some fans haste to criticise our legend, Pards never once wavered in his election of Jules as his no 1 last year. That might tell us a lot. But far more than that, even when Jules was injured, he didn't pick Wayne but went with the untried and untested McCarthy only picking Wayne when he felt forced to. Definitely instinctively Pards' 3rd choice it seems.
And now that Jules is back and available he immediately replaces McCarthy on the bench. Again, a clear indication to me of Pards' rankings in his mind.
So as I see it Pards still sees Jules as one (McCarthy 2 and Hennessy 3rd). And I am sure many agree. Indeed, with a likely removal to the bench or worse, and the euros coming, don't be surprised to see Hennessy move in in a couple of months.
I am loathe to be too hard on any one of them. All three are good keepers and it is fine margins between them. But for me, The other two have had a chance and in circumstances where no one was against them as the legend hadn't been dropped to make way for them. They had their chance and they haven't taken it so, after the debacle v City, with the team in the poorest shape of the season, now is the time for the legend to return.
What bigger lift could we have than Julian Speroni back in the fold on Saturday?
And for those who think it's just sentiment; it not. Just watch the highlights of the last two seasons and see how many times he was crucial to us getting the points. Just see the way the team responds to him and how he demands and gets excellence form those around him. Watch how he and Jedi walked off against Liverpool after Crystanbul. Listen to Pards talk of how the senior pros are the key to our success. Know that if he comes back not only will he give everything he has to the cause, but we will sing that little bit louder, work that little bit harder, play that little bit better, and smile that little bit more.
And anyway, football IS about sentiment, emotion, passion. Don't believe the trite sky induced platitudes that it's just a business. Every true fan knows that's rubbish. That's why Jules has such a special place in our hearts.
So, Alex your time will come, Wayne good luck with Wales, but for me now is a time for getting back to what we do well, with those we know and love. Now is the time for the legend to return.
Now is the time for Julian Speroni.
---