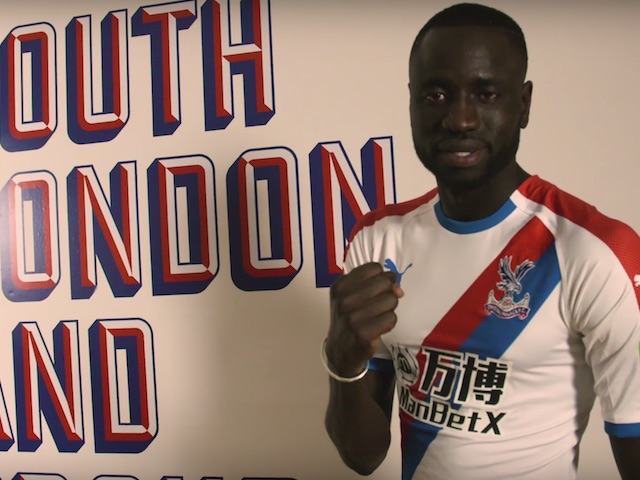 Palace have signed Cheikhou Kouyaté from West Ham for a reported £10m as Roy Hodgson bolsters his midfield options.
He joins former Schalke player and Germany international Max Meyer and Spanish goalkeeper Vicente Guaita as the Eagles' three summer signins so far, with more expected to join in the next week.
Palace lost two midfield first-teamers last month as Yohan Cabaye left for the UAE and Ruben Loftus-Cheek returned to Chelsea after his loan spell.
Hodgson admitted he was surprised the 28-year-old Senegalese midfielder was available to buy, telling talkSPORT: "I was a little bit surprised to get him as I always thought he was one of the important figures in midfield but when the opportunity presented itself the club were swift to act.
"He's a player we need because we've lost two very important players from last year's midfield in Yohan Cabaye and Ruben Loftus-Cheek. It was always going to be important for us to replace those with two other good quality players, albeit slightly different types. But they're types I requested and the club has done very well to ensure we get those two players."
Anyway, FYP asked Iain Dale from West Ham Till I Die to give us the lowdown on Kouyate and this is what he said...
Hi Iain, what are Kouyate's three best qualities?
My best memories of Kouyate were watching him driving forward, box to box. A tough tackler on the edge of his own penalty area he had a great knack of picking the ball up and running the length of the pitch. He's got great pace and strength and has the ability to beat players.
Bearing in mind he's a tall man at 6'3, he's surprisingly mobile. He's got a good shot on him and isn't a bad header of the ball. Most of his goals are quite memorable, and are usually piledrivers. His big strength is his character. He is always smiling and was apparently a very popular member of the dressing room.
What are his three worst weaknesses?
He can go missing in a game sometimes, and I have to admit that last season was his weakest. This explains the incredibly low fee, I guess. To my mind he's a £20-£25 million player. His final ball can sometimes in a little inaccurate and maybe he ought to have scored more than 12 goals in 129 games, but these are minor criticisms.
What's his best position?
He usually played in the centre of midfield for us but is also able to play in central defence. Under Slaven Bilic he played there quite often. He can play as a defensive or offensive midfielder. He played more offensively with us as Mark Noble covered the defensive midfield position.
At what point did you think things weren't working out with Kouyate at West Ham?
It had never occurred to me that we would even consider selling Kouyate. In his first two seasons he was simply outstanding. Even last season he had his moments, but he played with an injury for too long.
He says he needs a new challenge. I'm not sure I buy that, given playing under Pellegrini ought to have provided him with that. I'm told that he was very money conscious and had fallen under the influence of some people he'd have been better off ditching.
What will West Ham miss about him?
His wonderful smile. He was always laughing. But I'll also miss his lung-busting runs through the centre of the pitch. His goal celebrations are also something to behold.
If you could give him some advice, what would it be?
Choose your friends and business associates more carefully, and that the grass is not always greener on the other side.
Do you think he will fit in at Palace and will he be a success there?
In all honesty I think it's a very odd move for Kouyate. No disrespect, but moving from West Ham to Palace is at best a sideways move – at worst, a downward move. If the move was motivated by money, it will be interesting to see if you get the commitment out of him that we had in his first two years.
Roy Hodgson has done well in attracting some good players to Palace, but can they all play together as a team? If he ensures Kouyate knows he's one of his top players, and the player makes an impressive start, it may all work out. I hope it does.
Thanks to Iain for answering our questions!
Also, FYP asked West Ham expert Sam Inkersole, who covers the Hammers from football.london, to give us some insight into Kouaye and you can see what he had to say in the video below exclusive to FYP TV...
---