Palace did everything but score against Cardiff City. Here are Robert Sutherland's ponderings.
Wilf has Gone Off the Boil a Little, Let him get Hot and Bothered
Matches like Wednesday's draw against Cardiff City can bring frustrations to the boil. To see so many opportunities come and go, to have those chances go untaken, is frustrating. And no one showed that frustration more than Wilfried Zaha.
Zaha reminds me of an old-school kettle whistling on the stove top, just as it reaches boiling point -- you can see the frustration and you can see from his actions that he's annoyed -- but like a kettle, good things come to those who wait. You need to leave that kettle there just a little bit longer to really make sure the water is hot enough.
He is that kettle. He's whistling. He's hot and bothered. He's ready to spill over. But you know that, if you let him channel that frustration, or let the water boil a little longer, it'll be perfect when you serve it.
Magic happens when Zaha is at his angriest sometimes. He needs that to drive him. Let that frustration get to him, allow him to have those moments of outbursts. The reward will be what he serves up.
Guaita Offers a Firm Helping Hand
As a preface, this isn't about Wayne Hennessey. Not everything has to be looked at in a prism of comparison between the two goalkeepers.
Vicente Guaita has won Palace points with his contribution since he came into the side. His save against Leicester City, which rebounded off the post, was remarkably quick and crucial. He showed excellent dexterity against Manchester City early in the game, and was ultimately unfortunate to concede from Kevin de Bruyne's effort. And on Wednesday, he made a remarkable, strong-wristed save from a shot by Kadeem Harris.
Football is about opportunities you take, whether you're talking about actually playing or what you do in a match. Guaita, like Aaron Wan-Bissaka did last season, is taking the opportunity given to him and making the most of it. He's making Roy Hodgon's job more difficult.
More saves and more winning performances should see him really cement his place in the side. The good news for Palace fans is that the goalkeeping position isn't a problem one.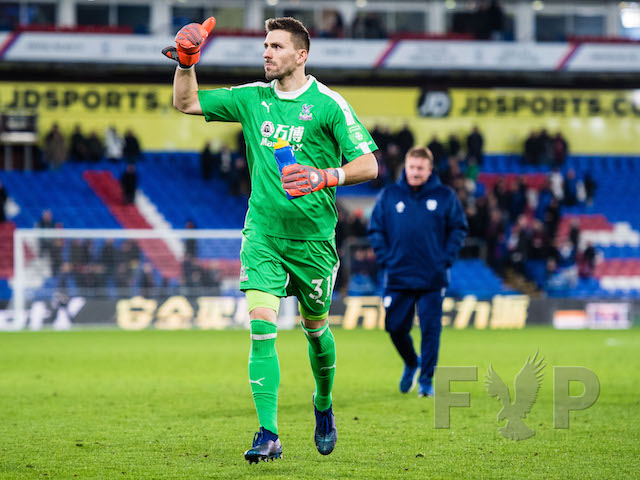 Wickham Wonderers See the Road to Recvoery is Long
It's been a long, arduous and often frustrating road to recovery for Connor Wickham. Almost two years since he first picked up the cruciate ligament injury, the striker returned to Premier League action with a performance that was as promising as it was revealing.
Injuries like the one suffered by Wickham, and the subsequent setbacks he had, have undoubtedly impacted on his sharpness. So while the quickness of thought is there, the speed with which is body reacts isn't quite yet.
Sporting professionals have to be carefully reintroduced to action. Wickham's body is his money-maker; the club have to respect the need to ensure he gets up to speed in a way which doesn't put him at further risk. So while the necessity was there for him to play because of the club's need for a goalscoring threat, that lack of sharpess underlined just how important a gradual reintroduction is.
A few more sub appearances should see him ready to compete for a starting place. And that'll be a good thing for the club and the striker.
Momentum is Key During Busy Christmas Period
The draw with Cardiff City on Boxing Day was entertaining. It was a good performance; the only thing missing from it was the finishing touch. Whereas almost every chance vs Manchester City went in, none of the chances Palace had vs Cardiff did.
What is crucial for Palace though is the importance of carrying momentum. Wins and draws do that. One thing Tony Pulis made a point about, which is worth taking on board, is that when you start collecting points, you have to do everything you can to keep doing that. And while Palace could have thrown even more forward, the risk of conceding on the break was all too stark.
It's better to exert the effort Palace did and accept that a draw was a good result, than to risk everything and lose. And with Chelsea next, the players will have everything focused on the visit from our West London neighbours.
---