Yannick Bolasie embodies that Palace spirit. The winger returns to Wembley for a third time - and Max Mathews suggests it's destiny for him to shine.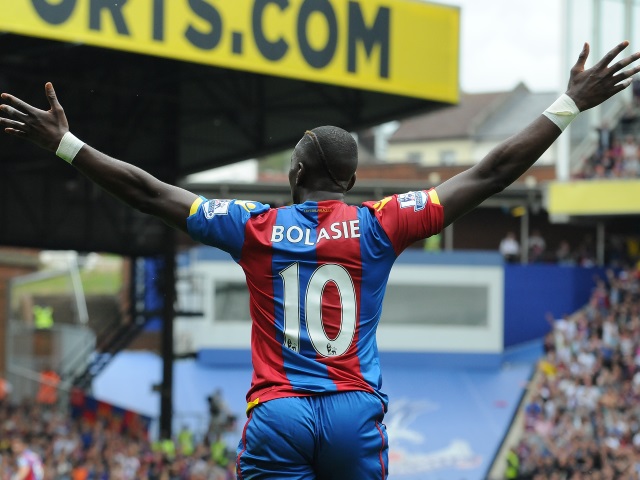 Whether it be Don Rogers, Peter Taylor, John Salako, Attilio Lombardo, or local boy Wayne Routledge, wide play and wingers have been part of the Palace ethos since even before my time. 2016 was the first time a winger has won Palace's Player of the Season award since Eddie McGoldrick in 1992. In the year of the winger, I think it'll be our wingers who decide the game on Saturday, but one in particular, and I don't think it'll be Wilf.
Rushden & Diamonds, Hillingdon, Floriana. Not upmarket tween clothing brands, but Yannick Bolasie's first three footballing employers; they serve to illustrate that his path to the top of the footballing game was not the most typical. Like Jamie Vardy, Bolasie started in non-league football before working his way up the divisions, but his rise is better mirrored by Vardy's Leicester teammate Riyad Mahrez. While Mahrez (also born in France) trained on the streets of Parisian suburbs, Bolasie navigated the labyrinthine playgrounds of London, giving him the agility and balance of a gymnast with the ball skills of a juggling Kardashian sister. Like Mahrez, it's clear that being outside the traditional academy system has helped Bolasie's game, and made him much more spontaneous and instinctive on the ball. Commentators' go-to line now is "even he doesn't know what he's going to do next". Maybe not, but that's what makes him so difficult to stop, and makes it so much more frustrating when he runs down a blind alley, tries one trick too many or can't deliver a quality final ball. Holloway clearly doubted him to the extent he was an unused substitute in the 2013 final.
But after two years playing regularly in the Premier League (PL), he's matured into a much more rounded player who works hard tracking back, can use his strength as well as his pace and skill, and – unlike Wilf – often knows when to pass as well as when to take on defenders in his unique style. He has a better temperament than Wilf, who still complains to the referee and lashes out occasionally, and has a more consistent final ball too. Compared to our Player of the Season (who deserved his award), he has more than double the goals and triple the assists this season in the league. We saw how much we missed him when he was out injured!
Whereas Wilf, Dann and McArthur offer consistent brilliance for us, it's Bolasie's more mercurial nature which excites me ahead of the final. We know exactly what to expect from those three, but Bolasie has the genuine cutting edge and X-factor. He gives us unpredictable, big-game moments: the 'Bolasie flick', barging over Bruno, swiping the ground in front of Bardsley, press-ups on the pitch, the Sunderland hat-trick, the 60 yard run to set up Gayle at Crystanbul, the selfie at White Hart Lane. Those are the moments which make football worth watching, which stick two fingers up to the football establishment, and which I'll be telling my grandchildren about when Wilf's grandchildren are running rings around Watford's defence.
He gave us two more of those moments at Wembley in the semi: a perfectly-timed jump for the opening goal; then skilfully dragging in two defenders, allowing Souaré to cross to Wickham for the second. All while wearing boots which mapped the journey from his mum's house to the iconic ground. It only takes one of these moments to change a game, to end 26 years of hurt, and to write a player's name into Palace folklore forever. I think that name will be Bolasie's.