Comparisons may be pointless, the game today has changed and we don't even play the same systems as we did in 1990 - but that doesn't stop people from making them. And no big game would be complete without a comparison to the previous team that made this achievement.
GOALKEEPERS
This is the easiest one. Nigel Martyn was one of the finest keepers of his generation and would have had many more caps had he played for a more fashionable club. Some of his saves looked almost impossible. Wayne Hennessey is a Welsh international. But so was Lewis Price.

WINNER: NIGEL MARTYN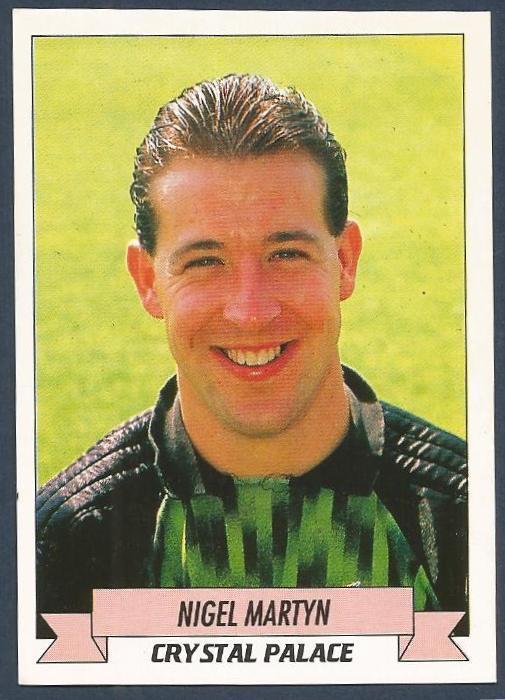 RIGHT BACK
It was John Pemberton's outrageous run into Liverpool's half that got us back into the game in that legendary semi final against Liverpool at Villa Park and Pembo was a competent and reliable attacking full back, though few Palace fans will disagree that the man we replaced him with in the summer, John Humphrey, was an upgrade. Pembo went on to have a decent career with Sheffield United and even experienced European football with Leeds, where he often played at centre back. Joel Ward has improved season upon season since signing from Pompey, however, in this current campaign he seems to have been off the boil a bit, despite popping up with the odd precious goal. It's a very close one but I'd give Wardy the nod here, even though I'm convinced he's a better defensive midfielder than right back.
WINNER: JOEL WARD
LEFT BACK
It always pleases me when one of our own makes it, and Richard Shaw is a player I've admired since he and John Salako used to sign autographs for our group of urchins at the front of the Sainsburys Terrace back in their youth team days. After a slow start and a loan at Hull, Shaw really matured as a player at the end of the 89/90 campaign, putting in some sterling performances at left back even though he was a right footed centre back. He was also a mainstay of the side that finished 3rd the following season and a recipient of our player of the year award. Pape Souare has shown flashes of brilliance going forward but for me he still has a lot of work to do on the defensive side of his game to be considered as good as Richard Shaw.
WINNER: RICHARD SHAW
CENTRE HALF
Gary O'Reilly arrived at Selhurst Park late in the 86/87 season from the Seaweed to little fanfare, and spent most of the following two seasons on the sidelines with various injuries. A solid, no frills centre half who up until the semi final had only found the net twice for us (if you exclude the spectacular own goal he scored for Spurs whilst playing for us in a 4-0 FA Cup drubbing at White Hart Lane shortly after he signed), then he goes and scores in the semi final AND the final. For that alone he should fill one of the centre back spots BUT this is about ability and Scott Dann is fast becoming the finest centre half this club has ever seen.
WINNER: SCOTT DANN
CENTRE HALF
After Liverpool put 9 past us at Anfield, one of Steve Coppell's first actions was to strengthen the defence. Out went the popular and competent Perry Suckling, whose one handed save against Blackburn played a huge part in getting us to the top flight in the first place, and in came Nigel Martyn. Jeff Hopkins had also made it clear that he wasn't up to the demands of first division football and Coppell told us that he wanted an "old head" in the centre of defence. Us fans took this to mean that an experienced, battle hardened centre half would be on his way to Selhurst and the newspapers were linking us with the likes of Mark Wright and Glenn Roeder. So more than a few eyebrows were raised when the 23 year old Andy Thorn arrived. One of Wimbledon's team of giantkillers who'd beaten the all conquering Liverpool to win the FA Cup two years previously, Thorn had left Wimbledon for Newcastle but never managed to settle on Tyneside and the Geordies needed little persuasion to take the £650,000 that Coppell had offered them. And what a bargain. Almost immediately Thorn settled an erratic defence and provided composed leadership to a previously dysfunctional backline, also weighing in with his fair share of goals and deputising as captain on occasion. Damien Delaney's football career was at a crossroads when Dougie Freedman snapped him up on a free from Ipswich back in 2012. After a couple of indifferent seasons playing for incompetent tossers such as Roy Keane and Paul Jewell, he'd even considered quitting the game for good before Dougie persuaded him to give it one last go. And what a go he's made of it. Every season since promotion the fans have whispered that this might be the end for Damo, and every season he's proved them wrong. Many folk will come to the conclusion that this FA Cup final may well be Damo's swansong, but don't be surprised if he proves you wrong again. A solid centre half and a proper leader, nobody deserves this more than Damo does. And it saddens me immensely to leave him out because nobody loves Damo more than I do, and this was the hardest decision I've had to make writing this piece.
WINNER: ANDY THORN
RIGHT WING/RIGHT MIDFIELD
This is where it gets difficult because the system we played in 1990 and the system we play now are totally different so the positions aren't exactly identical. Andy Gray preferred to play in the centre whilst Steve Coppell always preferred him on the right coming in, and this is where he appeared to be playing in the final. Had he played in the centre of midfield he'd probably have made the cut as that's where most of us saw him excel. However, he didn't. And for that reason he loses out to Wilfried Zaha. Wilf is one of our own and our player of the year, I simply can't leave him out. Not even for one of the best midfielders our club has ever had. Sorry Andy.
WINNER: WILFRIED ZAHA
CENTRAL MIDFIELD
And this brings us to the man who got us there both times. Alan Pardew, a £7500 signing from Yeovil in 1987, was only ever supposed to be a bit-part player for Palace but injuries, suspensions and the need for a ball winner made him pretty much a regular in the 89/90 campaign. Nobody needs reminding of that goal he scored in the semi final. But, as I keep repeating, this piece is purely on ability and few players who've worn the red and blue have as much of that as the maestro that is Yohan Cabaye. In terms of playing ability there is simply no comparison.
WINNER: YOHAN CABAYE
CENTRAL MIDFIELD - THE BATTLE OF THE CAPTAINS!
Geoff Thomas remains our most successful ever captain, and one of the finest midfielders this club has seen. A proper old fashioned ball winner with no little skill, it was no surprise when he finally made the England squad. Mile Jedinak is on the cusp of becoming our most capped international player and I've never seen a midfielder who consistently wins so much in the air. This one is close, very close, and my decision boils down to the fact that Geoff Thomas captained the side to 3rd place the following season. If Mile does the same next year I'll happily reevaluate this decision.
WINNER: GEOFF THOMAS
LEFT WING
Again, the system we played in 1990 seemed to have John Salako and Phil Barber alternating between the left wing and the second striker role. Since John Salako played most of his career wide on the left I've put him there for the purposes of making this article possible. And it's easy to forget that, in 1991, John Salako had the footballing world at his feet. The beginning of a successful England career was all but snuffed out by an unfortunate (and entirely blameless) challenge with Leeds's Mel Sterland that put him out of the game for the best part of two years. Another product of the fine youth system that Alan Smith and Peter Prentice put together in the mid 1980s, it's great that he's involved with the club again. Yannick Bolasie is the epitome of a Palace player. A previous career that saw him in places as diverse as Rushden, Malta and Plymouth before stagnating on the bench for Bristol City, Yannick is another example of just what a talent Dougie Freedman has in spotting a player. Again, this is a very tough decision indeed because Yannick is probably my favourite current Palace player, but, as I said, John Salako was on the verge of true greatness before that injury.
WINNER: JOHN SALAKO
SECOND STRIKER/ATTACKING MIDFIELD/NUMBER 10
Once again the systems dictate that I'm not comparing like for like. And, although he was a competent player who never gave less than 100%, there really is no comparison between Phil Barber and Jason Puncheon. A local lad, a Palace legend and one we will look back on as being probably the most important player in our current squad.
WINNER: JASON PUNCHEON
CENTRE FORWARD
Mark Bright is rarely mentioned without Ian Wright being mentioned in the same breath. Theirs was an almost telepathic understanding and the raw talent of the mecurial Wright was never really harnessed until Bright appeared on the scene in 1987. And the records show that Mark Bright was simply one of the finest strikers we've ever had. Connor Wickham would do well to emulate him on the pitch and I truly hope he does as the lad has the potential to be anything he wants to be.
WINNER: MARK BRIGHT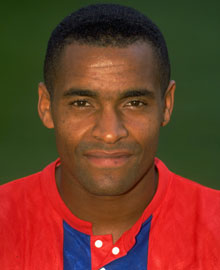 I'm only going to name one sub, and obviously that's going to be the man who came off the bench to score twice against Manchester United. Palace fans of a certain age often look back and wonder if things had been different had Steve Coppell opted to start with Ian Wright in the replay. I'm not sure they would have been. It was that disgusting kit that did for us. And on Saturday any one of those I've omitted, James McArthur, Emmanuel Adebayor, Bakary Sako - they're all capable of emulating what Wrighty did for us on May 12th 1990. Let's hold on and win it this time though, eh lads?
The Final line-up: