Palace's quickfire sacking of Frank de Boer has left fans questioning everything at the club. Here's Alistair Laban with some thoughts about the decision.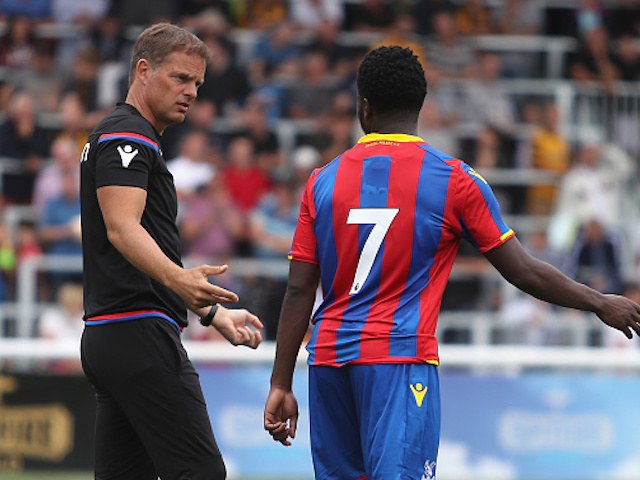 That's a bit embarrassing. The time between my tweet asking for fans patience and the sacking of our sixth permanent manager in as many years was only slightly longer than Frank de Boer's 's ultimately unsuccessful reign at the Palace.
I know the reaction to De Boer's appointment, tenure and sacking spans the full range of opinion from the Palace faithful, and everyone is entitled to that opinion, including me. Although I'm not going to comment on the outlook of fans and how that aligns with my feelings, it seems noteworthy that Steve Parish felt obliged to address some of the voices on Twitter last night. I agree that his record as a chairman stands up and he should be commended for his ongoing engagement with fans. Despite Parish's apparent transparency however, there are many things that really aren't clear, and as a result, serve to fuel modern football's favourite pastime; speculation.
I don't really care for offering opinion on what may or may not happen, but the usual topics in question have come into focus given De Boer's rapid departure. We have all shared (some more aggressively that others) our thoughts on the transfer window just gone – should we have spent more? Is the squad big enough? What happens if Benteke gets injured or suspended? Is there even the money available to acquire the targets? The answers to these questions merely lead to more questions about transfer policy and accountability. If De Boer had the final say, was he backed? If the board knew his plan, did they support it at the time of appointment? If there wasn't total buy-in to this step-change and transformation of playing style, why was he appointed in the first place? How can just four games be long enough to make these changes?
For me, one question has come up a few times and it is about to be answered; is Palace an unattractive club for players? Regardless of whether it was or wasn't, it certainly won't be going forward. The real issue that todays announcement highlights is the lack of direction and focus the club now has. I accept that Pulis and Allardyce left unexpectedly, but these were 'recovery' appointments, not considered, long-term choices. Palace fans are becoming tired of the crisis rollercoaster and the installation of De Boer was supposed to address that. What was seen as a carefully planned coup of a reputable coach (with a well known style) has ended up as a phenomenally premature disaster. If we can't build this club for more than a few weeks, never mind a few seasons, why on earth would players want to move to SE25? They may sign for one manager, an end up with another just a few games later, just like Mamadou Sakho, Jairo Riedewald, Ruben Loftus-Cheek and Timothy Fosu-Mensa have done. Spare a thought for the youth setup too – De Boer's arrival was the best prospect for those youngsters in a decade.
Managers come and go; I accept that as part of football. But this isn't the football for me anymore. Parish has alluded to the need to develop and build a club ethic, a legacy, a mantra, and this was meant to be the start of it. Instead we are left with a club in disarray and yet again, colleagues ask me 'what's going on at Palace?!' I'm fed up with responding to that. If this is the Premier League, I don't want it. I hate the money and lack of commitment to anything in the game; I'm bored of the demands of fans that feel entitled to instant success. We won't get it folks; we are Palace from the Football League. If you want trophies and European football you have to wait. Not weeks, not months, but seasons.
This decision is simply one of money. More so than Parish, I'm looking at Josh Harris and David Blitzer (the American investors). Noted by Robert earlier today, one or both of them appeared to have flown in and back to America over the weekend and no doubt would have discussed De Boer's future at the club. I expect that Parish would have indulged in tweet tennis last night knowing full well that the manager was getting the sack this morning, after the Americans demand quicker dividends on their investment. Although you could suggest that the Americans don't understand football, I don't think I do anymore either.
I just want a bit of stability for a change. I want us to do the right thing, not the most profitable thing. I am ok with losing four on the spin. I'd even be happier ending up relegated and rebuilding from the Championship if it meant that we could keep a bit of our integrity. Our identity is being eroded by poor decision making and serious commitment issues within the club; the next appointment must ultimately rebuild our reputation.
Whatever happens next, if Roy Hodgson is the answer, I have no idea what the question is.